Italy v. France wine battle
An email comes over from my buddy Bill who is a fellow foodie of mine with a simple message asking what we are doing on a Tuesday night in March and would we want to go to a wine dinner. I check the link, look at the price and quickly dismiss it as not a good value. Couple weeks later he texts me... Hey are we going to this dinner? No longer could I avoid him, so I show my husband and he quickly says why not, let's go. I guess I was in a whatever goes mood so I texted..Yes we are in.
Not ever having been to a wine dinner where wine is specifically paired with gourmet food I did not know what to expect. We showed up at one of our local restaurants known for good food but not really gourmet eats. Event was for about 100 people in their banquet room. Upon arrival I was quickly thrown by the amount of glassware on every table. It was serious and off we were on this 4 hour adventure of good food and wine.
Each person had 9 glasses in front of them. 10th glass with French Brut aka champagne being filled upon arrival as we were being seated. On our left they were going to pour French and on our right Italian varietals.
5 Course meal with 2 wine pairings (10 wines total). A French and Italian going head to head to see who would win the battle. Oh did I forget to mention that this wine was picked by 2 master sommeliers. This is a big deal because there are only 149 master Somms in the US and 236 worldwide. These are wine professionals that can taste wine and tell you what is in it, what year the vintage is, what varietal it is, year of the wine, etc. Simply amazing! With that they are super professionals at picking what wine complements what food so one Somm picked French wines and the other picked Italian wines for us to enjoy with each course.
First course: House made brioche toast with berries accompanied by French and Italian Brut (sparkling). This was something I would like to have every Saturday with a mimosa. Brioche toast was a bit crispy and perfect blend of salt and sugar. Drizzled on it was Milk Jam which had a caramel taste topped with fresh berries. This could easily be turned into a savory dish, but as it was served it was enjoyable with Champagne. And something I learned is that champagne is safe to serve with any type of food if you are not sure what goes. Love that because I love champs.
France. I have tried sparkling from everywhere but France always gets my vote. There is only one Champagne region, in France.
Second course: Nicoise Salad accompanied by French - Pouilly Fume and Italian Pinot Grigio. Hands down best Nicoise salad I ever had and when enjoyed with white wine I tasted every fresh produce in that salad a bit differently. Perisian dressing which I don't know what that is popped when enjoyed with wine. Pouilly Fume is a new sort I have not tried, very crisp and light but I did not like this wine by itself at all.
MY WINNER: France. Again for me it just tasted so much better when I ate this salad. Italian was lovely as well and oddly Italian tasted better without food but French blew it away with this salad pairing.
Third course: Truffle and Foie Gras Ravioli accompanied by French - Marsannay and Italian - Borolo . This had to be my favorite dish. Ravioli came but then consomme was poured over it and my ravioli quickly became soup and OMG angels flew. Pasta hand made with a nice crunch on ravioli corners, I am salivating as I type. When wine first arrived both of these did not taste good to me without food but as soon as I took a bite and revisited with a sip it changed completely. Food brought out all the wine notes not there before. On this one though even though I was eating ravioli, French wine was just superior.
MY WINNER: France. See a pattern!!!
Fourth course: Lamb Gnocchi accompanied by French - Chateau Pesquie and Italian -Brunello. Pre-food both of these were nice to taste although Brunello was better without food. This dish was heavy and very seasoned. Lamb, swiss chard, peas, morel mushrooms with an armagnac demi. Mmmm Mmmm Good! Bite for bite, sip for sip close but again French took it.
France but this round was close
Fifth course: Lemon Budino accompanied by French - Banyuls and Italian - Santo di Montelpucino. Very sweet dessert and not too lemony in flavor paired with sweet after dinner wine. I am not one for sweet wine ever so I was already going into this thinking no way, I will not like either. Well I liked both and they both made this dessert taste creamy.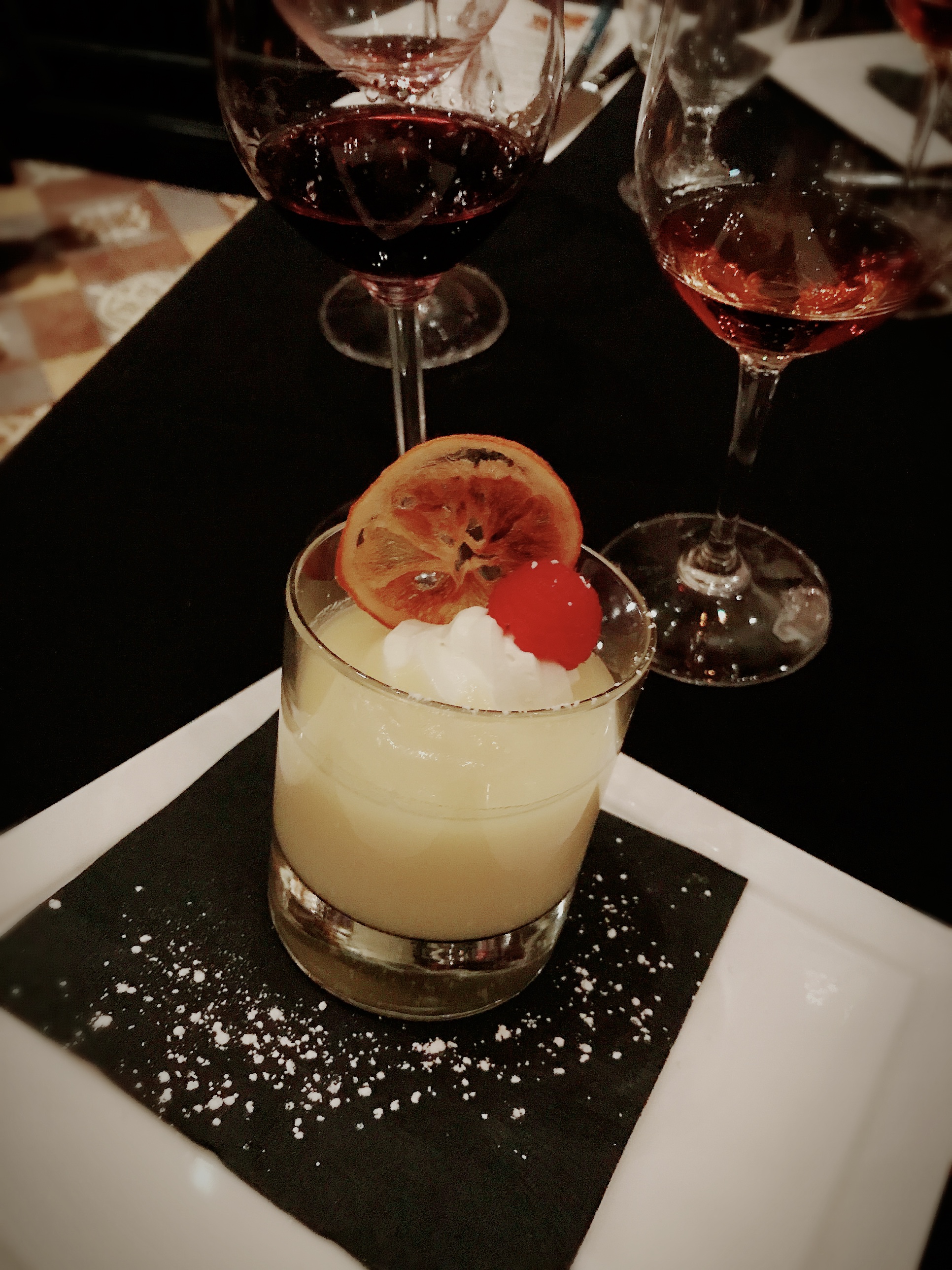 At the end of this event I walked away so satisfied on several levels. I learned a bunch about wine I am not familiar with and look forward to trying some of these varieties myself. As far as an experience goes for a date night, double date night or just because you are a foodie or wino, this was a great thing to try. In restaurants when you see a dish and wine suggestion beside it, venture out and try it. There is definitely something to having the right wine with your meal that takes it to another level of enjoyment.
Cost of this 5 courses and 10 wines tasted (approx. 3 glass pours worth of wine)... $99 per person which now that I look back was a good value. Experience was priceless! Spending time with friends and making a new memory. Just happened I preferred French but why wouldn't I, they are known for good wine.
Viva France...Be Awesome and Sparkle.